Linda Stein gives a variety of fast-paced lectures on Gender Justice such as these:
1. The Chance To Be Brave, The Courage To Dare. First performed as a Keynote Address for the National Association of Women Artists on May 20, 2009 (see announcement below), at the National Arts Club in Manhattan. It has since been presented at the Brooklyn Museum and at other museums, galleries and educational institutions throughout the country and abroad.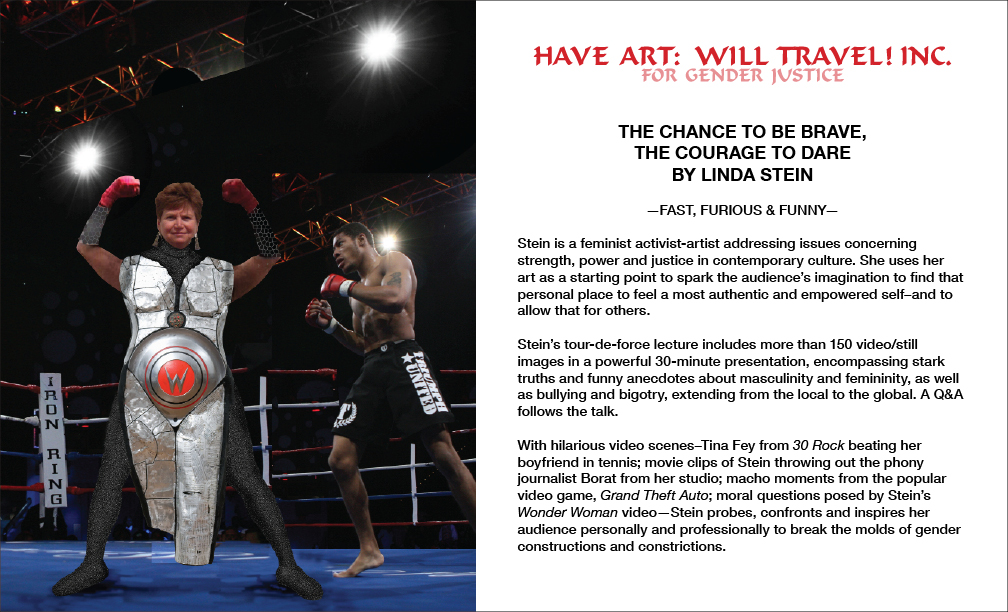 ---
2. Salander/Blomkvist: Challenging Stereotypes in The Girl with The Dragon Tattoo–and beyond. Around the world, so many of us—men, women and in-between—are fascinated with Steig Larsson's stories of omnipotence and libidinal domination. We feel a frightening excitement, an ambiguous and complex overlapping of strength, aggression, power and sexual energy.
Artist-activist Linda Stein makes a dramatic presentation, both visually and viscerally, of Larsson's two main protagonists, Lisbeth Salander and Mikhail Blomkvist. In a whirlwind of fast-paced references that include Wonder Woman and Lady Gaga, as well as her gender-bending and heroic art, Stein teases, provokes and inspires her audience to risk approaching the intersections of sadism and the verboten emotions that surface.
First performed at the Brooklyn Museum in a panel discussion on October 22, 2011 (see announcement below), Linda Stein condenses the 2 hour Swedish movie The Girl with the Dragon Tattoo into a 17 minute tour de force of gender reversal & scrambling. Q&A to follow.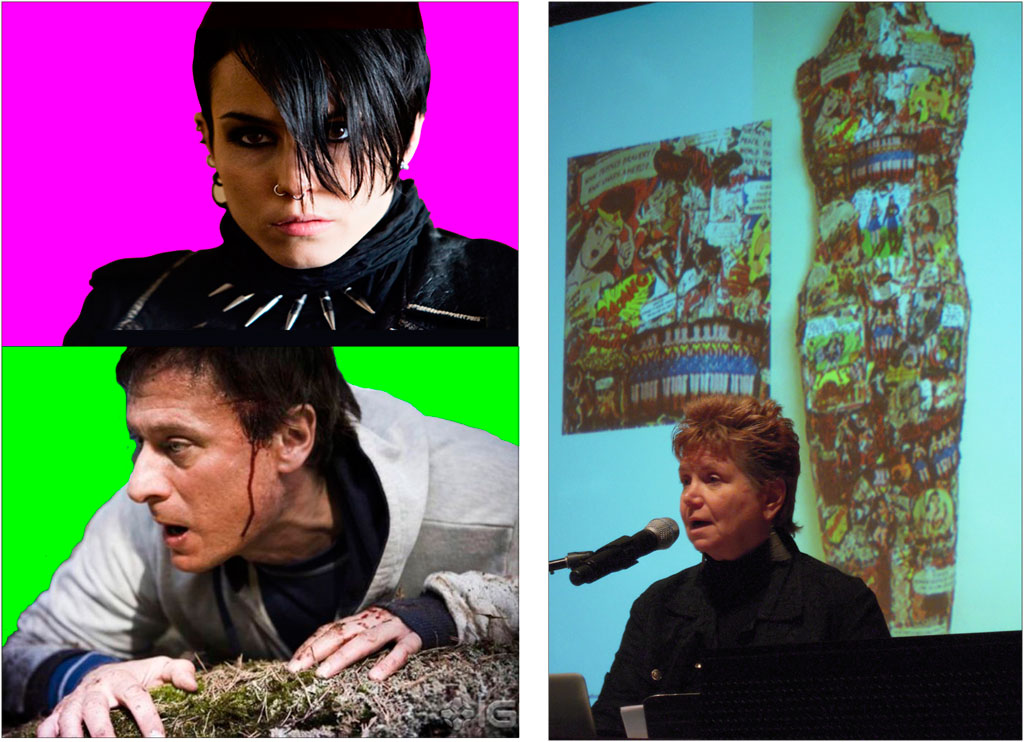 ---
3. Gender Fluidity Shakes Up the Masculinist Art World! First presented on November 12, 2011 at the National Women's Studies Association (NWSA) Conference, Feminist Transformations in Atlanta, Georgia. With humor and historical perspective (did you know that female artists earn 10-30% of what male artists earn from their art?) this empowering cri de coeur is Stein's call for action to upend the imbalance in the art world.
---
To learn more about a lecture for your organization, please fill out the form below and someone will contact you.